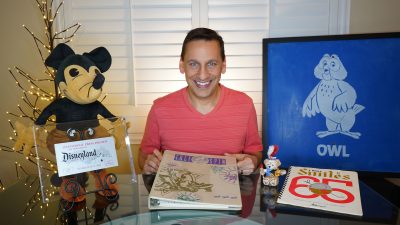 I'm so happy to bring you my video series "Keeping the Magic Alive" for The Kingdom Insider. (Links below) In this series I share Disney history, showcasing some of my personal Disney artifacts and photos, and I'll convey stories of Disney, many of which were told to me firsthand by the Disney Legends themselves.

Teaser: Quick introduction to the series
Episode 1: – Introduction to Keeping the Magic Alive with Scott Wolf
Episode 2: – Disney Legends Awards 1989: Walt's Nine Old Men
Episode 3: A history of the first Mickey Mouse dolls
Episode 4: Jay Meyer: From the Haunted Mansion to the Golden Horseshoe
COMING SOON Episode 5: Tokyo Disneyland's 35th Anniversary
COMING SOON Episode 6: Harriet Burns: The First Lady of Disney Imagineering
COMING SOON Episode 7: Publicity Tours from Disneyland
COMING SOON Episode 8: The premiere of Fantasmic!