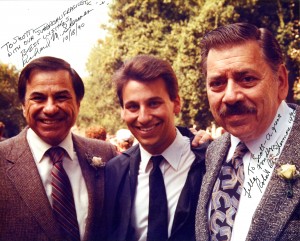 Below are the names of some of the wonderfully talented people I've recorded conversations with.  I'm in the process of posting the audio and text from my interviews. As they become available I will post them below.
The quality varies greatly with the audio, as I've done interviews on the phone, through Skype, in hotel lobbies, crowded restaurants, and even in Disneyland's Frontierland with a gunfight show going on! But regardless of the quality, I'm sure you'll find these stories as fascinating as I do.
Thank you all for your support of Mouse Clubhouse. It means a lot to me.
(Oh… and a special thank you to BILL ROGERS and CAMILLE DIXON, better known as "The Voice of Disneyland" and "The Voice of Disney California Adventure" respectively, for the intros and outros for my Mouse Clubhouse conversations.)
Jim Adams & Don Payne
Disneyland entertainers in the 1970s, who were involved in performing, writing and directing, and starred in the historic "Golden Horseshoe Revue," alternating with the legendary Wally Boag
LISTEN: Career overviews
Sonny Anderson
Legendary director of talent booking for Disneyland and Walt Disney World, who began his Disney career playing drums in the Disneyland Band in 1956
LISTEN: Career overview (with additional commentary by Stan Freese)
John "Doc" Anello
Disneyland production manager, and manager of Disneyland entertainment education, who also led his own band at Carnation Plaza Gardens in Disneyland
LISTEN: Career overview
X Atencio
Disney animator and writer/lyricist for classic Disneyland and Walt Disney World attractions with songs including Yo Ho (A Pirates Life For Me)
LISTEN: Career overview
Renie Bardeau
Disneyland photographer for almost 40 years, responsible for some of the most famous photos of Walt Disney
LISTEN: Career overview
Kathryn Beaumont
Voice of Alice in Alice in Wonderland and Wendy in Peter Pan
LISTEN: Walt Disney; Working on the Disney films

LISTEN: A unique visit with Walt Disney; Live action reference for animators
LISTEN : Being a child actress and becoming a school teacher; "Alice" in later years
Larry Billman
Writer/Director and producer of Disney Resort entertainment worldwide
LISTEN: Career overview
Wally Boag
Starred in Disneyland's Golden Horseshoe Revue from 1955 to 1982. Wrote Walt Disney's Enchanted Tiki Room attraction and provided the voice of the show's macaw emcee, Jose.
LISTEN: Career overview
Harriet Burns
Set designer/builder for shows and movies such as the original Mickey Mouse Club and Disney theme park attractions around the world
LISTEN: Disneyland's Chinatown and Mister Lincoln
LISTEN: Working on the movies Babes in Toyland and Mary Poppins
Tim Conway
Comic legend who starred in several Disney films including The Apple Dumpling Gang and The World's Greatest Athlete. Best-known for his roles on McHale's Navy and The Carol Burnett Show.
Chuck Corson
Director of entertainment for Disneyland and Walt Disney World and talent booker (who created the first Dapper Dans barbershop quartet)
LISTEN: Chuck's start at Disneyland; The first Dapper Dans barbershop quartet; the start of the Osmonds; Walt Disney World entertainment
LISTEN: Chuck and Fred Waring and Pennsylvanians; Big Bands; The start of Disneyland nighttime entertainment
Marc Davis
Animator/Character Designer for Disney animation, including creating Tinker Bell, and contributing greatly to Disneyland's classic attractions such as Haunted Mansion and Pirates of the Caribbean, and one of Walt Disney's "nine old men"
LISTEN: His days in Disney animation
LISTEN: Designing for Disneyland attractions
Disneyland's Opening Day
Harriet Burns, Jack Lindquist, Blaine Gibson, Miriam Nelson and Mouseketeers remember being at Disneyland in 1955 on opening day in these audio interviews
LISTEN: Memories of Disneyland's opening day
Don Dorsey
Musician, director, producer, and audio engineer whose work for Disney includes the Main Street Electrical Parade, America on Parade, Reflections of Earth, Fantasmic!, and Sorcery in the Sky
LISTEN: Early career overview
LISTEN: Secrets of IllumiNations: Reflections of Earth at Epcot
Gary Dubin
Voice of kitten Toulouse in The Aristocats
LISTEN: Career overview
Bill Farmer
Voice of Goofy, Pluto and more
LISTEN: Bill's start as Goofy
LISTEN: The recording process for Goofy; Other voices and projects
Orlando Ferrante
Vice President  of Engineering, Design and Production for Walt Disney Imagineering
LISTEN: Career overview
Stan Freese
The first leader of the Disneyland Band eventually became the director of talent booking for Disneyland
LISTEN: Career overview
Lee Fugal
Preshow entertainer at Disneyland's historic "Golden Horseshoe Revue" show
LISTEN: Career overview
Blaine Gibson
Animator/Sculptor of classic films and theme park attractions
LISTEN: Haunted Mansion; Pirates of the Caribbean; If You Had Wings
LISTEN: His work in Disney animation, beginning in 1939
Jack Gladish
Mechanical Engineer for Walt Disney Imagineering (including the original Abraham Lincoln figure for the New York World's Fair)
LISTEN: Jack's career; Walt Disney;  Disneyland, and World's Fair attractions
LISTEN: Creating animals in the 1960s for the Jungle Cruise at Disneyland
Jeff Hoffman
Vice President, Disney Worldwide Outreach,
Disney Legends founder
LISTEN: History of the Disney Legends Awards
SEE: Jeff's last two days with Disney
Stan Jolley
Art director for Disney films,  TV the opening of  Disneyland. His credits include Walt Disney's Wonderful World of Color, Elfego Baca, Zorro and Donald in Mathmagic Land
SEE: A tour of Stan's 22,000 square foot home and his art galleries
Alyja Kalinich
Costume designer for Disney parks worldwide including characters such as Aladdin, Genie and Roger Rabbit and countless costumes for Disney parades and shows
SEE: Career overview
Gary Krueger
Disney photographer since 1967
LISTEN: Career overview
Barry Lane
1960s Disneyland tour guide and Jungle Cruise skipper
LISTEN: Barry's time at as a Disneyland tour guide, Jungle Cruise skipper and in the Golden Horseshoe; Memories of Walt Disney
Jack Lindquist
Disneyland's first President and head of Advertising / marketing guru for Disneyland, Walt Disney World and international Disney resorts
LISTEN: Jack's pre-Disney days in Hollywood
LISTEN: The opening ceremony for the class it's a small world attraction
LISTEN: Creating the Walt Disney Travel Company
LISTEN: The opening of Walt Disney World; World Showcase; Jack's work philosophy

Ron Logan
Executive Vice President/Executive Producer, Walt Disney Entertainment
LISTEN: Career overview
Rikki Lugo
Disneyland dancer in the Golden Horseshoe Revue and other shows and parades in the 1950s and the movie  Babes in Toyland, and choreographer of Disney events including the Disneyland Tenth anniversary television special
LISTEN: Disneyland's Golden Horseshoe Revue; Babes in Toyland and more
Peter Marshall
Emmy Award winning television host, performer of stage and screen, and big band singer
LISTEN: His music work, his television work including the "Hollywood Squares" and "Big Bands at Disneyland"
Alan Menken
Academy Award winning composer of films such as "The Little Mermaid," "Beauty and the Beast," "Aladdin" and "Tangled"
LISTEN: His music work and his favorite Disney memory
Jay Meyer
Singing statue in the Disney parks' Haunted Mansion attractions performer in Disneyland's Golden Horseshoe Revue, regular on the Jack Benny Show and numerous other performances in television and movies
LISTEN: Career overview
Marcia Miner Phillips
1967 Disneyland Ambassador to the World
LISTEN: Her Disney career and time as the Disneyland Ambassador
Kathleen Mitts Micalizzi
1993 Disneyland Ambassador to the World
LISTEN: Kathleen remembers her time as Disneyland Ambassador
Miriam Nelson
Legendary Hollywood choreographer who staged the opening day of Disneyland and choreographed Disney On Parade
LISTEN: Disneyland's opening day and a bit about her career
Cicely Rigdon
Early supervisor of Guest Relations and head of the Disneyland Ambassador program
LISTEN: Ticket seller, tour guide, Guest Relations, Walt Disney
LISTEN: The Disneyland Ambassador program
Gina Rock
Flew as Tinker Bell in the fireworks shows at Disneyland for twenty one years starting in 1983following a successful career as an aerialist with the Ringling Bros. Barnum & Bailey circus.
LISTEN: Flying over Disneyland as Tinker Bell
Jeffrey Sherman
Writer, producer and director for film and television. One of his Disney credits includes serving as story editor on the television series Boy meets World. He is the son of famed Disney songwriter Robert B. Sherman
LISTEN: Memories of his father and Walt Disney 
Connie Swanson Lane
1966 Disneyland Ambassador to the World
LISTEN: Her memories of working with Walt Disney and her Ambassador year
"Tangled" voice actors Mandy Moore and Zachary Levi
Singer/Songwriter/Actress Mandy Moore and actor Zachary Levi
LISTEN: Memories of working on "Tangled"
Ray Templin
Longtime member of the Disneyland Band and voice actor of several Fantasyland attractions including Stromboli in Pinocchio's Daring Journey and the Circus Ringmaster on the Casey Jr. Circus Train
LISTEN: Performing with the Disneyland Band and other Disney music groups
LISTEN: Providing voices for Fantasyland attractions in Disneyland
Randy Thornton
Grammy Award-winning Producer, Walt Disney Records
LISTEN: His Disney career, and producing, restoring, and preserving Disney music
Carole Tully
Miss Disneyland 1964
LISTEN: Traveling the world and representing Disney as
Miss Disneyland, 1964
Valerie Watson
Disneyland tour guide, Miss Disneyland, 1962, and started Guest Relations for Walt Disney World
SEE: Valerie's career and her reign as Miss Disneyland, 1962
Scott Weinger
The voice of Disney's AladdinMiss Disneyland 1964
LISTEN: Scott's memories of working on the Disney animated film, "Aladdin"
STILL TO COME
Sherry Alberoni
Original Mousketeer
Tony Anselmo
Voice of Donald Duck/Feature Animation – Animator
Terry Babcock
Dancer at Disneyland in the 1970s who appeared on television and in the Golden Horseshoe Revue
Shari Bescos Koch
1969 Disneyland Ambassador to the World
Bobby Burgess
Cast member of the original Mickey Mouse Club who later went to dance for decades on The Lawrence Welk Show
Page Cavanaugh
Singer in Disney animated short, The Truth About Mother Goose and popular singer with his trio starting in the 1940s
Peter Clark
Director of participant relations for Disneyland
Ellen Coleman Marchese
1984 Disneyland Ambassador to the World
Jim Cora
Jim worked his way up from attraction host at Disneyland in 1957 to a founding part of the Disney University and ultimately chairman, Disneyland International
Mary Costa
Opera singer who started her career as the singing and speaking voice of Princess Aurora in Sleeping Beauty.
Joanne Crawford Duner
1982 Disneyland Ambassador to the World
Dana Daniels
Star of Disneyland's Golden Horseshoe Variety Show, performer in the Golden Horseshoe Revue and juggler and character. Recently voted Magic Castle's Magician of the Year
Alice Davis
Costumer for films and classic theme park attractions
Carol DeKeyser Masters
1974 Disneyland Ambassador to the World
Marva Dickson Thomas
1971 Disneyland Ambassador to the World
Cami Dixon
The official voice of Disney California Adventure
Ron Dominguez
After living in a house on what would become Disneyland property, Ron worked his way up from opening day ticket taker to executive vice president of Walt Disney Attractions, West Coast (which included the never-realized Westcot)
Leona Dombroske
1979 Disneyland Ambassador to the World
Susan Donald Edwards
1977 Disneyland Ambassador to the World
Donnie Dunagan
Voice of Bambi in the 1942 classic film
Jennifer Faust
1990 Disneyland Ambassador to the World
Wendy Freeland Schoeman
1989 Disneyland Ambassador to the World
Paul Freeman
President of Audio By The Bay, the company responsible for recording and engineering many of the best known shows and parades for the Disney resorts worldwide
Ed Ghertner
Feature Animation Background Artist, Producer of TaleSpin television series
Howard Green
Vice President, Studio Communications
Shelby Grimm
Leader of Disneyland's Dapper Dans barbershop quartet, performer in the Golden Horseshoe Revue
Bob Gurr
Created and built many of the vehicles of the Disney parks including the Main Street vehicles and the Haunted Mansion's omnimover
Dick Hardwick
Wally Boag's replacement in Disneyland's Golden Horseshoe Revue and one of four of the Guinness World Record holders for that show
Don Hahn
Academy Award nominated animation producer of Beauty & the Beast and The Lion King. Producer/director of Waking Sleeping Beauty, executive producer of DisneyNature Earth and Oceans
Bruce Healey
Senior Music Producer/Director, Disneyland Entertainment
Arlene Ludwig
Director, West Coast Publicity, Buena Vista Pictures Marketing and 50+ year veteran of the Walt Disney Company
Kaye Malins
Family friend of Walt Disney who currently resides in his childhood home in Marceline, Missouri
Leonard Maltin
Film critic, Disney author and historian, and creator of the Disney Treasures DVD sets

Gary Maggetti
Director, Parks Food & Beverage, Disneyland Resort
Marilyn Magness
Director, Walt Disney Imagineering Creative Entertainment
Joe Messerli
Designed the Twilight Zone logo for the classic Rod Serling series which now appears in the Disney parks Tower of Terror attractions. Also did art on various comic books and coloring for Disney and other classics
Jaye P. Morgan
Popular singer, guest on The Muppet Show and panelist on the original The Gong Show
Linda Mouron
Dancer for many Disneyland shows, parades and events, who later became a reporter for KABC news
Dale Olson
A foremost authority on trumpets, and Disneyland trumpet player including over 30,000 performances of the Golden Horseshoe Revue
Cubby O'Brien
Original Mousketeer
Suzanne Palmiter Campbell
1992 Disneyland Ambassador to the World
Roger Pearsall
Disneyland Manager of Entertainment (1970s) and original Electrical Parade team with Bob Jani
John Ratzenberger
Actor whose voice is in every Pixar feature film and who has appear in several Disney shows and the popular sitcom Cheers for eleven seasons
Pete Renoudet
Actor in Disney films, and voice in theme park attractions including Henry and Max in the Country Bear Jamboree and the narrator in The Many Adventure of Winnie the Pooh
Julie Reihm Casaletto
1965 Disneyland Ambassador to the World
Terry Robinson
Disney theme park entertainment producer/director/performer, who also starred as Sluefoot Sue in Disneyland's Golden Horseshoe Revue and in Tokyo Disneyland's Diamond Horseshoe Revue
Bill Rogers
The official "voice of Disneyland" whose voice you hear in opening/closing and in-park announcements
David Sacks
Was responsible for the infamous "Yippie invasion" at Disneyland in 1970, prompting the park to close for the day
Christina Schendel Walker
1976 Disneyland Ambassador to the World
Peter Schneider
Former head of Disney Feature Animation and Chairman of the Walt Disney Studios
Ron Schneider
Performer (Wally Boag sub) in the Golden Horseshoe Revue, provided part of the voice dialogue of Dreamfinder in Epcot's Journey Into Imagination and performed in the park as live Dreamfinder character
Russell Schroeder
Author of "Disney's Lost Chords", volumes 1 and 2, and Art Director, Disney Publishing
Richard M. Sherman
Academy Award winning Disney co-songwriter of songs for Mary Poppins, Winnie the Pooh, and It's a Small World
Robert B. Sherman
Academy Award winning Disney co-songwriter of songs for Mary Poppins, Winnie the Pooh, and It's a Small World
Mark Silverman
The voice of "Rod Serling" in the Disneyland and Walt Disney World Tower of Terror attractions
Dave Smith
Founder, Walt Disney Archives
Tom Tancredi
Parade Manager, Manager of Stage Management and Talent Operations, and Disneyland International, continuing his 40+ year Disney career
John Tartaglia
Executive Producer and star of Disney Channel's Johnny and the Sprites and Lumiere on Broadway in Beauty and the Beast

Betty Taylor
Longest running member of Disneyland's Golden Horseshoe Revue, starring for 30 years as Sluefoot Sue and voice of a pig in singing America Sings
Melanie Taylor
Disneyland performer, one of the Kids of the Kingdom, a former Bette Midler Harlette and support singer for Barry Manilow
Nancy French Thompson
Dancer in films and Disneyland's Golden Horseshoe Revue, including an historical performance at the White House, personally requested by President Nixon
Willie VanderZwaag Burckle
1981 Disneyland Ambassador to the World
Melissa Tyler Wackerman
1985 Disneyland Ambassador to the World
Mindy Wilson Fisher
1983 Disneyland Ambassador to the World
Bob Wackerman
Former Manager of Disneyland's Music Department, and Executive VP and Co-Partner of Audio By The Bay, the company responsible for recording and engineering many of the best known shows and parades for the Disney resorts worldwide
Kirk Wall
Star of Disneyland's Billy Hill and the Hillbillies show and performer in Disneyland's Golden Horseshoe Revue