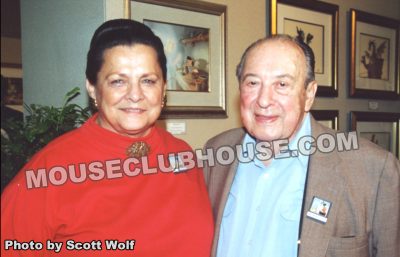 Walt Disney considered Marc Davis, one of his core animation team of "nine old men"!  Not only an animator, Marc designed many  characters such as Cruella De Vil and Tinker Bell, before moving on to WED, now known as Walt Disney Imagineering, where he designed many of the scenes for classic Disneyland attractions such as it's a small world, Pirates of the Caribbean, Haunted Mansion and Jungle Cruise.
AUDIO INDEX
4:46 After 101 Dalmatians, Marc was working on a concept for a film on Chanticleer, and in a strange meeting was told he couldn't do that; After Chanticleer Walt asked Marc to work for WED and he started on the Mine Train attraction; Marc added some humor; He placed a fox shaking his head left and right next to a fox nodding his head up and down so they were looking at each other; Marc didn't like the seat placement in the trains, feeling that people were looking at each other in the attraction rather that at the scenes, it was more important for people to see what was ahead, not what was behind you; Created a scene in the Mine Train which would be an earthquake, rocking the cars, but after some earthquakes he realized it would just scare people, the job wasn't to scare people, but to entertain people
13:32 Adding humor to the Jungle Cruise including the elephant pool, the African veldt, later added the safari camp that the gorillas took over; Marc designed the trapped safari chased up the pole by the rhino because Walt wanted Marc to do things for the attractions that could be seen by the Disneyland Railroad, the safari was so good Walt wanted it in the ride; Walt was going to see a new elephant scene in the Jungle Cruise, a scene which didn't work well for long; Tommy Walker was in charge of entertainment at the park and dressed in an elegant suit and played a practical joke on Walt in the elephant scene – Marc never saw Walt laugh like that
18:35 When Alice met Walt Disney at the Tam O'Shanter restaurant, and he told her he was going to hire her; The first job Alice did for Disney was making the costume live action costume for Briar Rose reference for Sleeping Beauty, she later worked on Toby Tyler, and then she was asked by request of Mary Blair to do the costumes for it's a small world; designed the scenes for the attraction and met with the United Nations
23:28 Walt did not want a storyline in the Haunted Mansion; some artists were working on a storyline about a bride who was stood up at her wedding, but Walt didn't want that; the appearance of Haunted Mansion exterior and Walt's decision to keep "everything on the outside of these buildings should look neat and clean." Bringing humor into Disneyland, and the trapped safari in the Jungle Cruise.
26:03 Marc Davis learned that Walt Disney wanted to do a Pirates of the Caribbean walk-through attraction; Alice Davis talks about creating the costumes for Pirates of the Caribbean; How realistic to be with pirates, and that the truth is that most died of venereal disease than in battles in bawdy houses. No characters were caricatures of Walt Disney, the staff or anybody except one who was a janitor.
34:20 Talking about the last show Marc worked on, America Sings