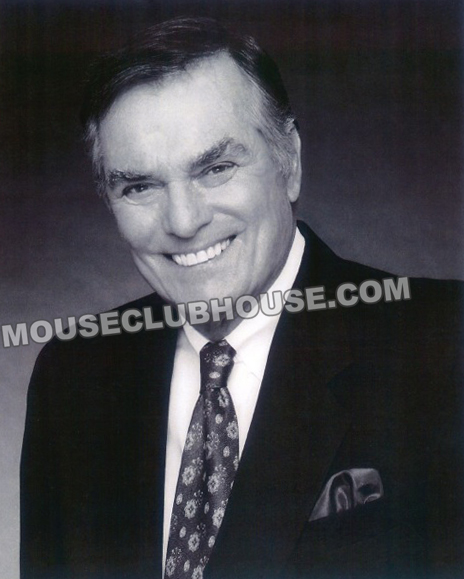 Peter Marshall is a big band singer, television and radio host including "Hollywood Squares" and "Big Bands at Disneyland." As an actor he's appeared in both television and film, and in the feature film, "Annie," he sings, "You're Never Fully Dressed without a Smile." He's appeared in a number of stage musicals, such as The Music Man, La Cage aux Folles, and Skyscraper on Broadway. (Be sure to see all the photos below.)
AUDIO INDEX
1:56 Peter was an usher at the world famous Paramount at the age of 14. At the age of 15, Peter became a pageboy at NBC in the days of radio.
3:10 Peter wanted to be a singer and got a job in the early 1940s singing with Bob Chester and his orchestra at the Adams Theatre in Newark, New Jersey.
4:16 At 16 years old Peter went back to high school at his home in Huntington, West Virginia. Moved to California and was drafted and served in Italy during World War II, from 1944 to 1946. In the military, Peter became a disc jockey and program director of AES Naples (American Expeditionary Station). Peter would play "V discs" (victory discs).
9:45 After the war, Peter went to Florida and got a job in radio, had a 15 minute radio show where he talked and sang. It was called "Peter and the Wolf" with pianist Wolf Catlett. Peter mentions that he also sang in the military.
11:15 Peter went to New York and then California. Had a group called the Upstarts. He got a role in a show called "Tongue in Cheek." Paired up with Tommy Noonan in a successful comedy act because Peter's sister, actress Joanne Dru was dating Tommy Noonan's brother. Peter teamed with Tommy Noonan to pay a dental bill. Opened at the Zambawanga and later at Billy Gray's Band Box comedy club. Performed with Tommy Farrell for about four years. He then teamed back up with Tommy Noonan for two more years.
14:29 In 1961, Peter performed in Bye Bye Birdie with Chita Rivera, kicking off a string of theatrical performances including High Button Shoes, Anything Goes, Panama Hattie and Bye Bye Birdie in Las Vegas. He performed in New York in Skyscraper with Julie Harris and Charles Nelson Reilly.
14:50 Got his job doing Hollywood Squares, he thought it was a 13 week job and he hosted for 16 years. He needed a "straight man" who could work with comics. Continued to have an act in Las Vegas, opening for acts like the Mills Brothers, Joan Rivers, Bill Cosby and Jerry Lewis. He hosted the Peter Marshall Variety Show for two years. Peter did 35 commercials for Kelloggs, which led to hosting the Hollywood Squares.
18:15 At the start of the Disney Channel, Peter and Steve Allen did interviews with people who had done Disney films for Disney Channel interstitials. He then hosted "Big Bands at Disneyland," which featured the great big bands and their leaders such as Count Basie, Woody Herman, Artie Shaw, Les Brown, Buddy Rich and Lionel Hampton.